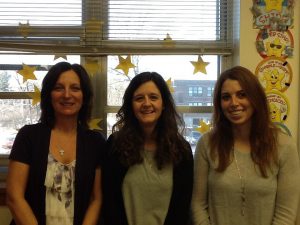 Mrs. Diana Curbelo
I am a graduate of Kean University with a Bachelor's degree in Early Childhood Education with over twelve years of teaching experience.  Throughout those years, I have taught children in pre-k, kindergarten, second and third grade. Additionally, I have four children of my own. I believe children need experiences to grow and develop into independent students. As an early childhood educator, I am confident that experiences enrich all aspects of a young child's life : emotionally, physically, spiritually, and cognitively. My goal as a preschool teacher is to provide experiences for children to discover, to learn, and to find pride in themselves.
Mrs. Jeanette Johnson
I attended Centenary College where I graduated with a Bachelor's Degree in Elementary Education. For as long as I can remember I always wanted to be a teacher.  Throughout my high school and college years I worked with children in a daycare setting and always enjoyed working with young children. I knew I would love to teach preschool. I have been teaching Pre-K both 3 and 4 year olds for 11 years here at St. Francis Cathedral School. In those 11 years, I had 2 children of my own, first a daughter and then, 5 years later, a son.
I believe that each child is unique in their own way and as a teacher, I learn about and then teach to each child's personality and learning style. Children need to be in an environment where they feel secure, cared for and are happy to come to school everyday. Children should be in an atmosphere where they can grow and mature not just intellectually, but socially and emotionally as well.  Equally important is a classroom where children show love and respect for each other and their teachers and others that they come in contact with throughout the day.
Mrs. Lee-Ann McNulty
After graduating Rutgers with a Masters degree in Education I went on to teach Kindergarten for eleven years. I then stayed home and raised my daughter and three sons. When I returned to teaching I was fortunate enough to become part of the teaching staff at SFCS. Here I taught both Pre-K and Kindergarten for eleven years. Each classroom has a special group of children that varies in abilities and teaching each child is very important to me so that children feel a sense of accomplishment and become successful in everything they do.